Wildlife & Nature
Boundless Beauty: Explore the Haitian-Dominican Border Through This Unique Biosphere Reserve
Mountain forest in Seguin, La Visite National Park, Haiti
Photo: ZUMA Press, Inc. / Alamy
Stretching from La Selle in Haiti across to the Barahona-Pedernales Peninsula in southwest Dominican Republic along the Haitian-Dominican border, the Transboundary Jaragua-Bahoruco-Enriquillo Biosphere Reserve is a globally-important landscape and an area of magnificent natural beauty.
Officially declared a Biosphere Reserve by UNESCO in 2002, the Reserve united pre-existing national parks (Massif de La Selle National Park in Haiti, and Jaragua, Sierra de Bahoruco, and Enriquillo National Parks in the DR) to form a single unbroken chain of protected areas along border of Haiti and the Dominican Republic, one of only 21 transboundary biosphere reserves on the planet.
You can now take a complete expedition starting in La Visite National Park in La Selle, Haiti, and cross over the superb mountain ranges into the Dominican peninsula without going through a Customs Border Checkpoint, just one smooth adventure spanning an incredibly diverse ecological area.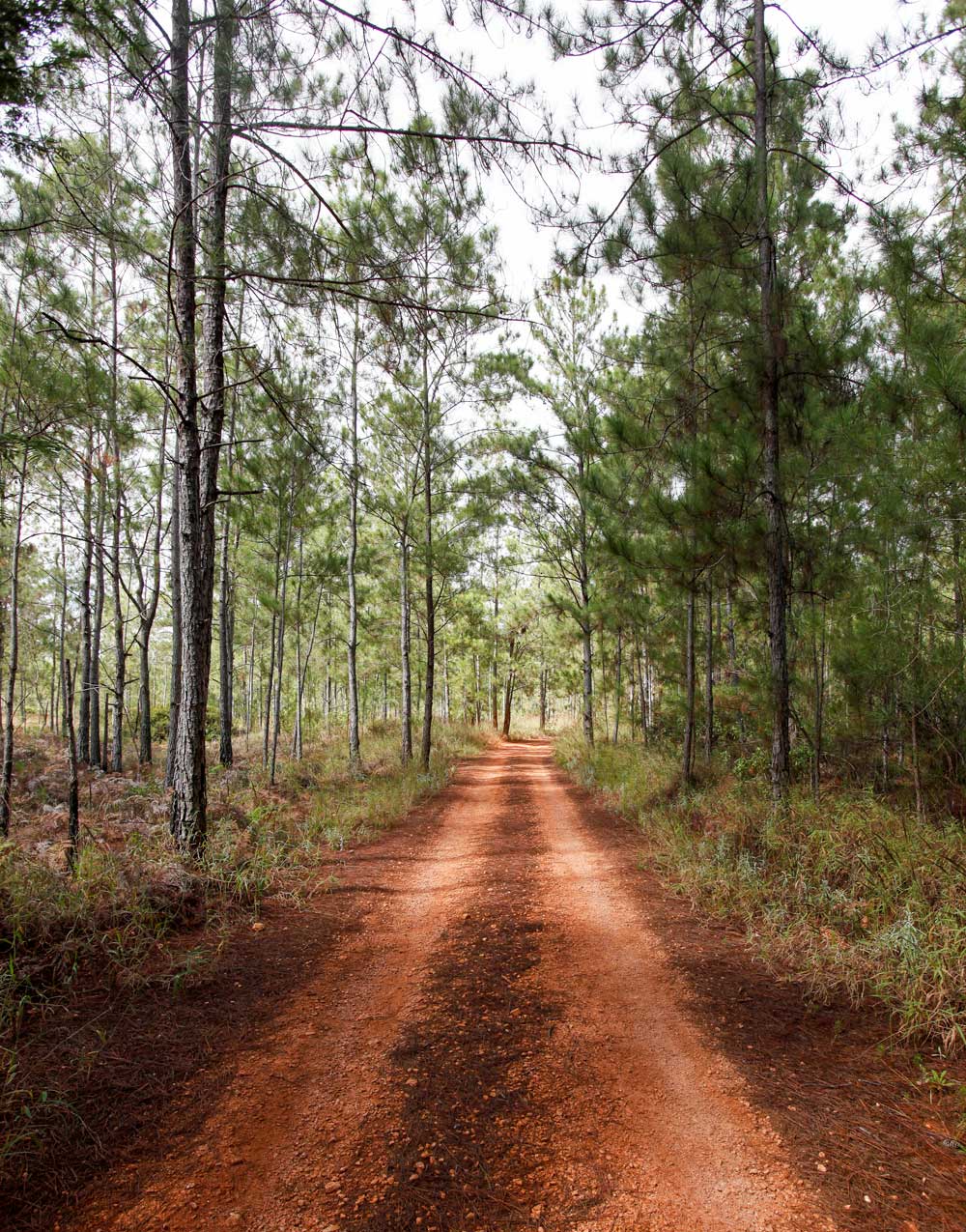 Pine forest at Parque Nacional Sierra de Bahoruco, Dominican Republic
Photo: Michael Dwyer / Alamy
Unbelievably Diverse
One of only 21 Transboundary Biosphere Reserves on the planet, a visit here gives you the chance to experience a selection of unique ecosystems like:
- Coastal Marine Habitats
- Extraordinary wetlands home to exotic birdlife endemic to Hispaniola
- Spiny scrubland home to prehistoric crocodiles and iguanas
- Highland subtropical forests dotted with beautiful bromeliads and unusual orchids
- "Cloud forests" - an utterly unexpected aspect of the Caribbean
Subterranean rivers and canals flow through the lands sustaining life, and rainfall from the mountain tops carves out river valleys that produce the perfect environments for the over 440 endemic species of trees, flowers and cacti that make this beautiful landscape unique. The Reserve protects endemic species such as Raft Trees, Balsa Palms, Canelillas, and Horned Melon Fruits.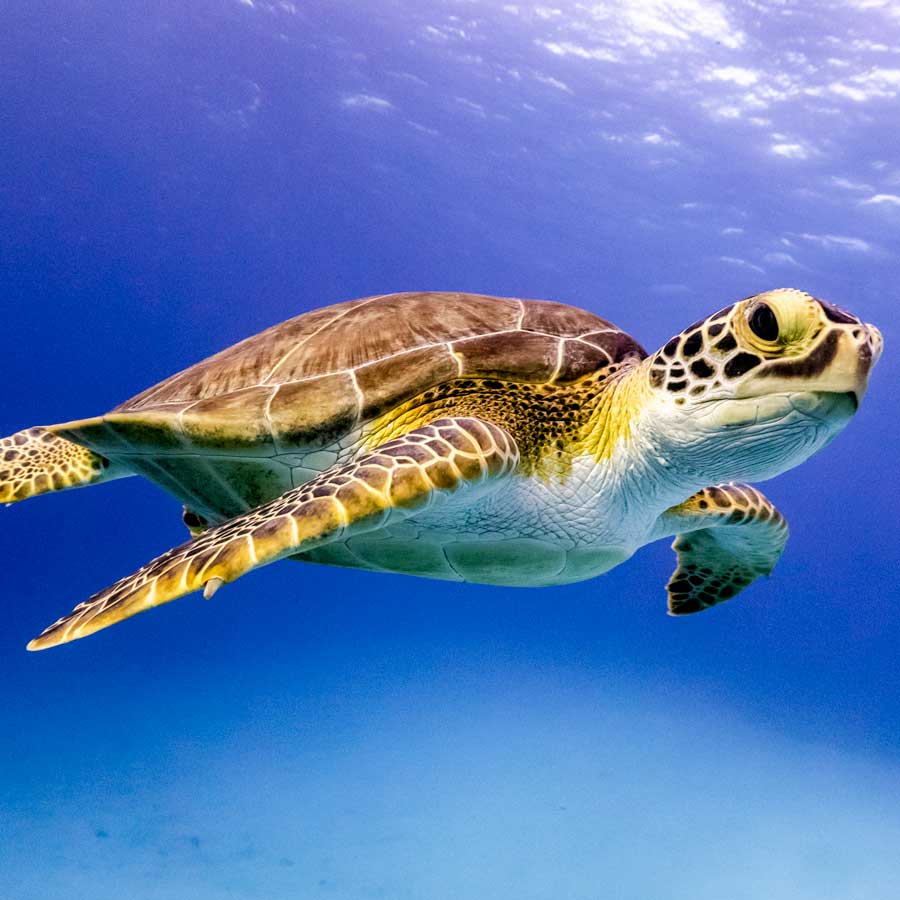 Hawksbill Sea Turtle
Photo: Shutterstock.com
Water Worlds
Swimming through the warm Caribbean Sea on the southern coast of Hispaniola, the political boundary between Haiti and the Dominican Republic is invisible to a host of amazing endangered critters like manatees, Leatherback turtles, Hawksbill Sea Turtles. The region is also home to a population of American Crocodiles that live in Lake Enriquillo, as well as freshwater Queen Conch and Cyprinodont Fish. Wading in the shallows you'll see birds like Flamingos, Egrets, and Spoonbills.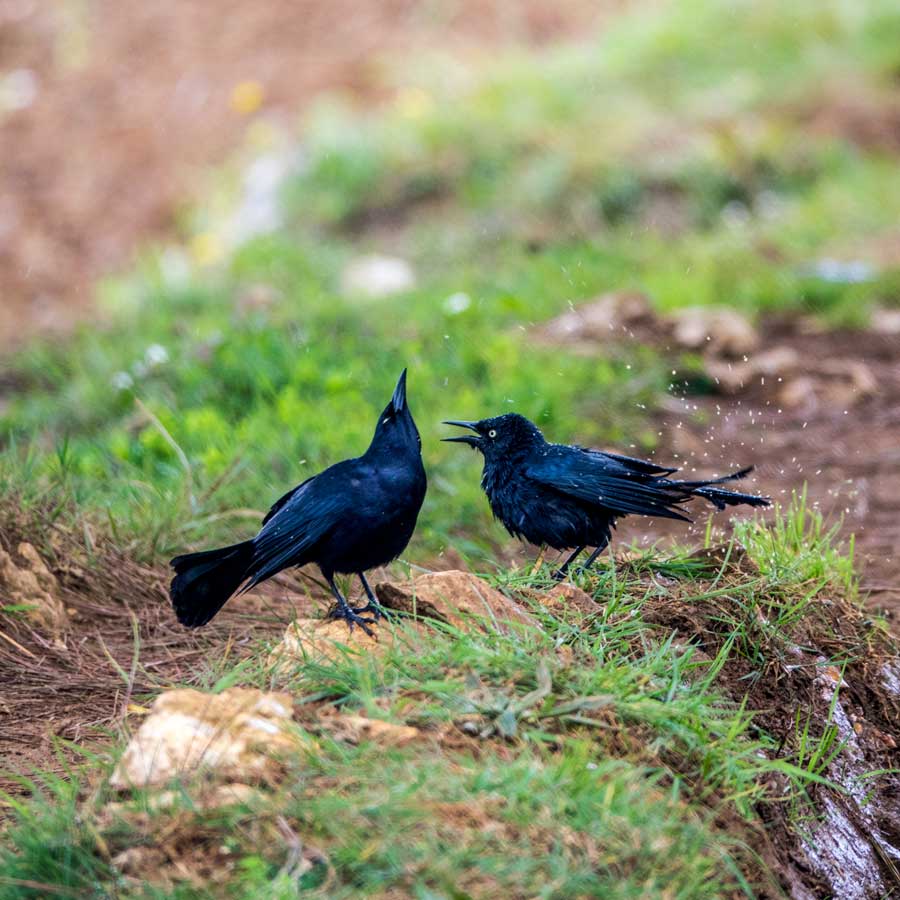 Greater Antillean Grackles at Pic la Selle, Haiti
Photo: René Durocher
Birdlife
Situated along the Haitian-Dominican border, the Transboundary Biosphere Reserve is a sought-after destination on the Caribbean birding trail, offering twitchers the chance to spot dozens of endemic species. Birding expeditions are an important part of ecotourism here, promoting the protection of habitat through direct conservation measures tied to ecotourism and by encouraging local livelihoods built on the tourism economy rather than subsistence forest uses. While you're here you'll have good chances to observe:
- Bicknell's and La Selle Thrush
- Chat-tanagers and White-winged Warblers
- Ridgway Hawks and White Crown Pigeons
- Peregrine Falcons, Red tailed hawks, and Stygian Owl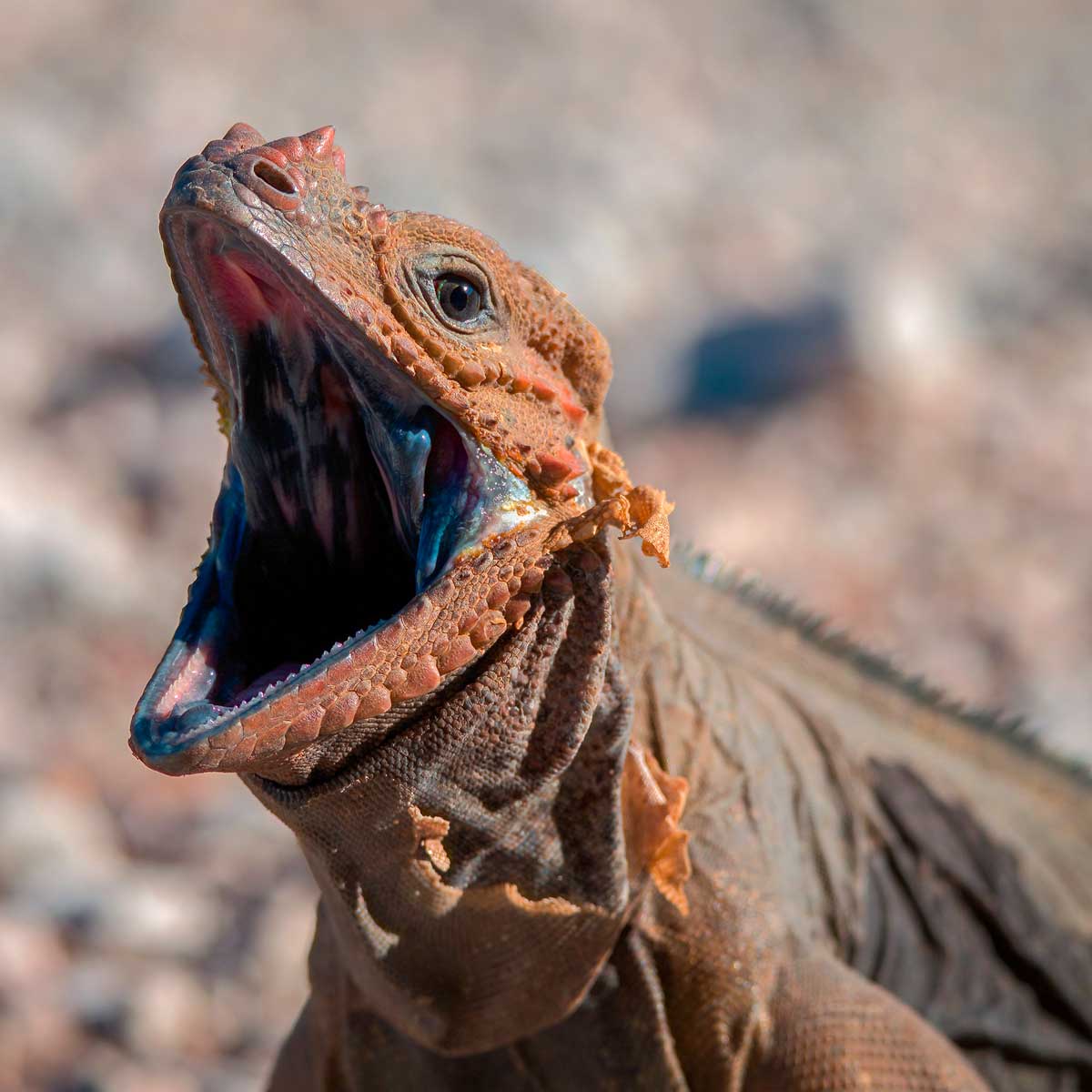 Rhinoceros Iguana at Lake Enriquillo, Dominican Republic
Photo: Javier Gautier
Amphibians and Reptiles
The remarkable wetland ecosystems in this relatively dry region hide a huge diversity of amphibians and reptiles like Red-Listed Red-legged Frog families (currently Critically Endangered), the Ricord's Iguana and Rhino Iguana, Saba Least Geckos, and non-venomous Boa Snakes.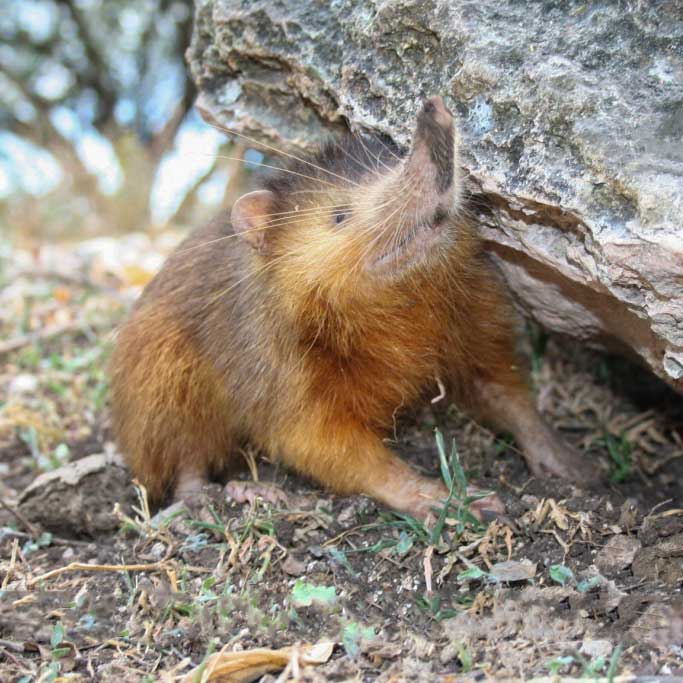 Hispaniolan Solenodon
Photo: Wikimedia Commons
Mammals
Speaking of venom, the Biosphere Reserve also protects crucial habitat for one of the world's strangest creatures - the Hispaniolan Solenodon, one of just 16 venomous mammals in existence. The Reserve is also home to the highly endangered Hutia (another prehistoric rodent), as well as the Banana Rat.
An Incredible Overland Trek
Self-drive tours of the Transboundary Biosphere begin at either at La Visite National Park, a 2-hour drive from Port-au-Prince in Haiti, or a town called Neyba in the Province of Bahoruco, 4 hours from the Capital of Santo Domingo in the Dominican Republic.
This suggested itinerary will take you left to right, starting the journey in Haiti.
Massif de La Selle
Massif de La Selle (Morne La Selle) is the most expansive Biosphere in Haiti, covering 11,419 acres. A massive chunk of this mountain range is protected by La Visite National Park, where you'll encounter the world's largest reserve of the Pinus Occidentalis, an endemic Pine Tree species located in Forêt des Pins.
This enchanted pine forest is also home to the highest mountain top in Haiti, Pic La Selle, shooting up over 8,500 feet above sea level as part of the Chaine de La Selle mountain range, which continues east across the Dominican border, where it's called the Sierra de Bahoruco and partially protected within the Sierra de Bahoruco National Park, forming a natural bridge along the Haitian-Dominican frontier.
Massif de la Hotte
Standing out in the remote southwestern region of the Tiburon Peninsula (Shark Peninsula) in Haiti, the Massif de la Hotte mountain range is dominated by Pic Macaya, the second-highest mountain in the region at 7,700 feet. The thick Cloud Forests that cling to the slopes of Pic Macay are a refuge for significant populations of Hispaniola's endemic wildlife.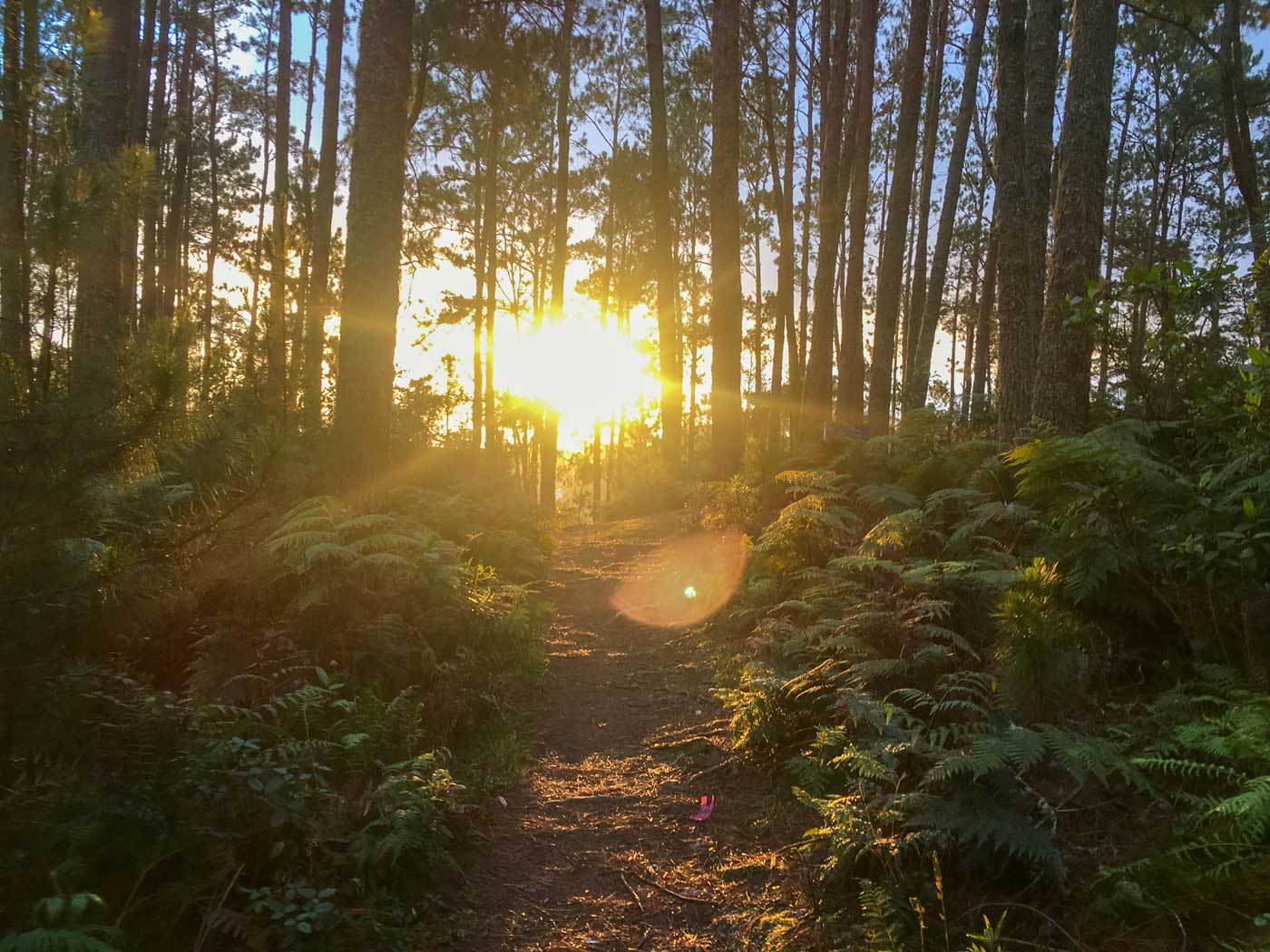 Pine forest at Forêt des Pins, Haiti
Photo: Anton Lau
Crossing the Haitian-Dominican Republic Border
After having a good night's rest in a rented Park Cabin (which you must book before you travel) you'll get ready to head into the Jaragua-Bahoruco-Enriquillo National Parks and Reserves:
Jaragua National Park
Southwest of the Pedernales Province in the Dominican Republic, Jaragua National Park is made up of dry forests, offshore islands like Isla Beata and Alto Velo Island, and paradisiacal beaches that run for miles.
Bahia de Las Aguilas Beach is probably the most sought-after attraction in the area and regularly appears in lists of the best beaches in the world. Some of the world's clearest waters are rich with marine life like starfish, octopi, sea horses, and blowfish. You can only access this remote beach through Cabo Rojo.
Jaragua also features Laguna de Oviedo, the second largest lake in the Dominican Republic, home to a population of Pelicans, Blue Herons and Pink Flamingos.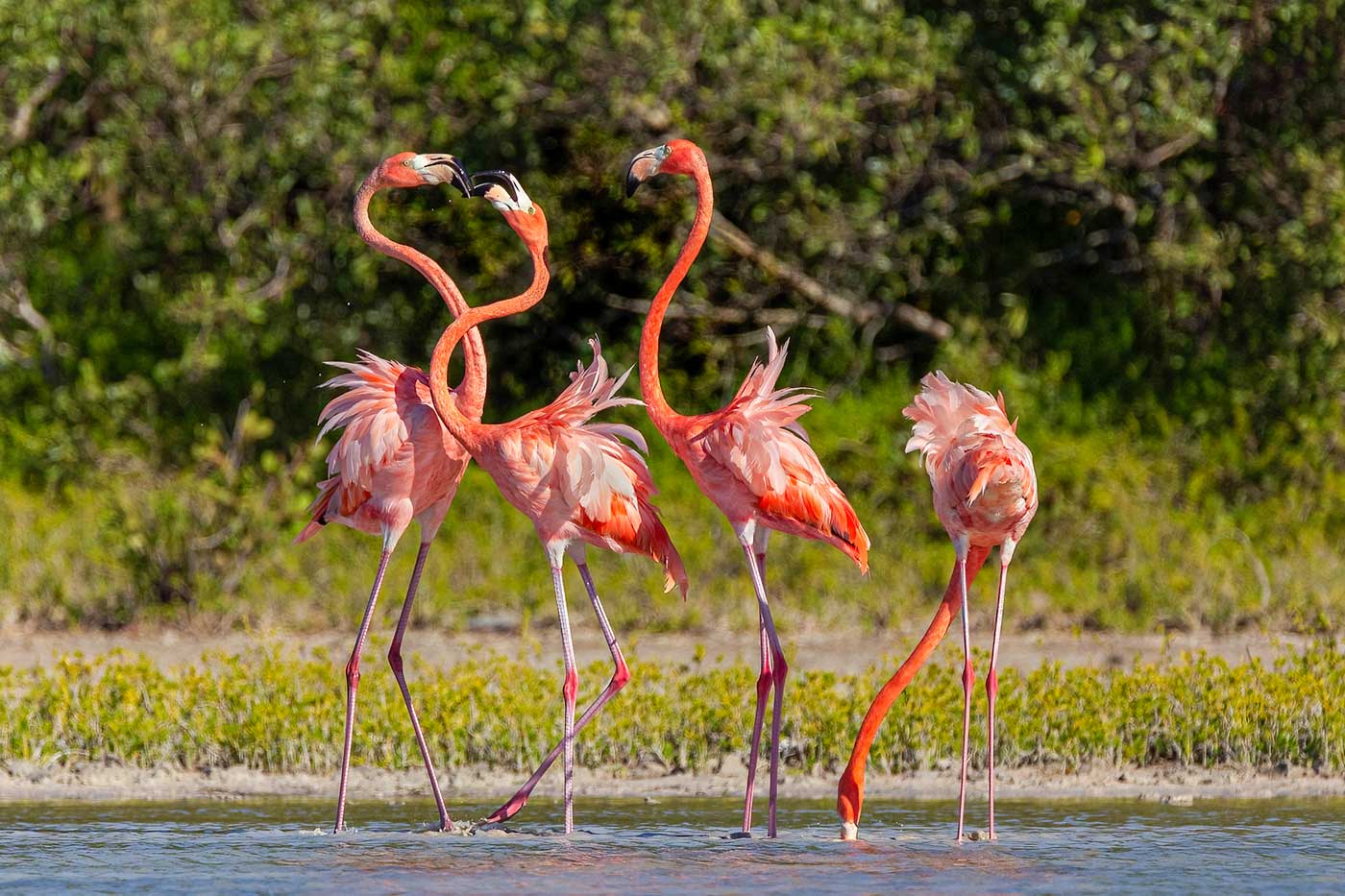 Pink flamingos at Laguna de Oviedo, Dominican Republic
Photo: Javier Gautier
Sierra de Bahoruco
This majestic forest-clad mountain range has elevations that reach up to 7700 feet (Loma de Toro)and is home to the highest concentration of biodiversity in the region. In the Sierra de Bahoruco National Park, you'll find:
- Broadleaf, Dry, Wet, and Sub-Tropical Forests
- Natural Spas and sub-terranean rivers
- Fossilised remains of sea snails, tropical molluscs and coral at 6500 feet above sea level.
The Reserve has over 1,400 types of Plant Species, 439 of which are endemic to the region like: Agaves, Cacti, Coffee trees, Sabinas and Palm Trees. Some of the paths up through this mountains are formidable opponents for climbers, but given that the Caribbean is known more for its beaches than its bouldering, the hiking trails are wonderfully crowd-free.
Lake Enriquillo National Park
This hypersaline lake is the largest lake in the Caribbean, and the lowest point on any island across the Americas - the surface of the lake is an incredible 150 feet below sea-level. The lake is studded with islands formed by marine remains left here some 56 million years ago, and the whole island-and-lakeshore habitat is reminiscent of scenes out of Journey to the Centre of the Earth, covered with spiny scrubland and prehistoric-looking subtropical dry forests. Slinking through the ancient sands you'll see American crocodiles, rhinoceros iguanas and Ricord's iguanas, while exotic birds like flamingos, greater egrets and the Greater Antillean Grackle wade through the shallows.
By boat, you can visit the islands of Barbarita, Islita, and Isla Cabritos. You might even be able to walk along the connecting sand bars, but don't attempt this without a guide - the water level of Enriquillo has been mysteriously rising, and the sands could be treacherous.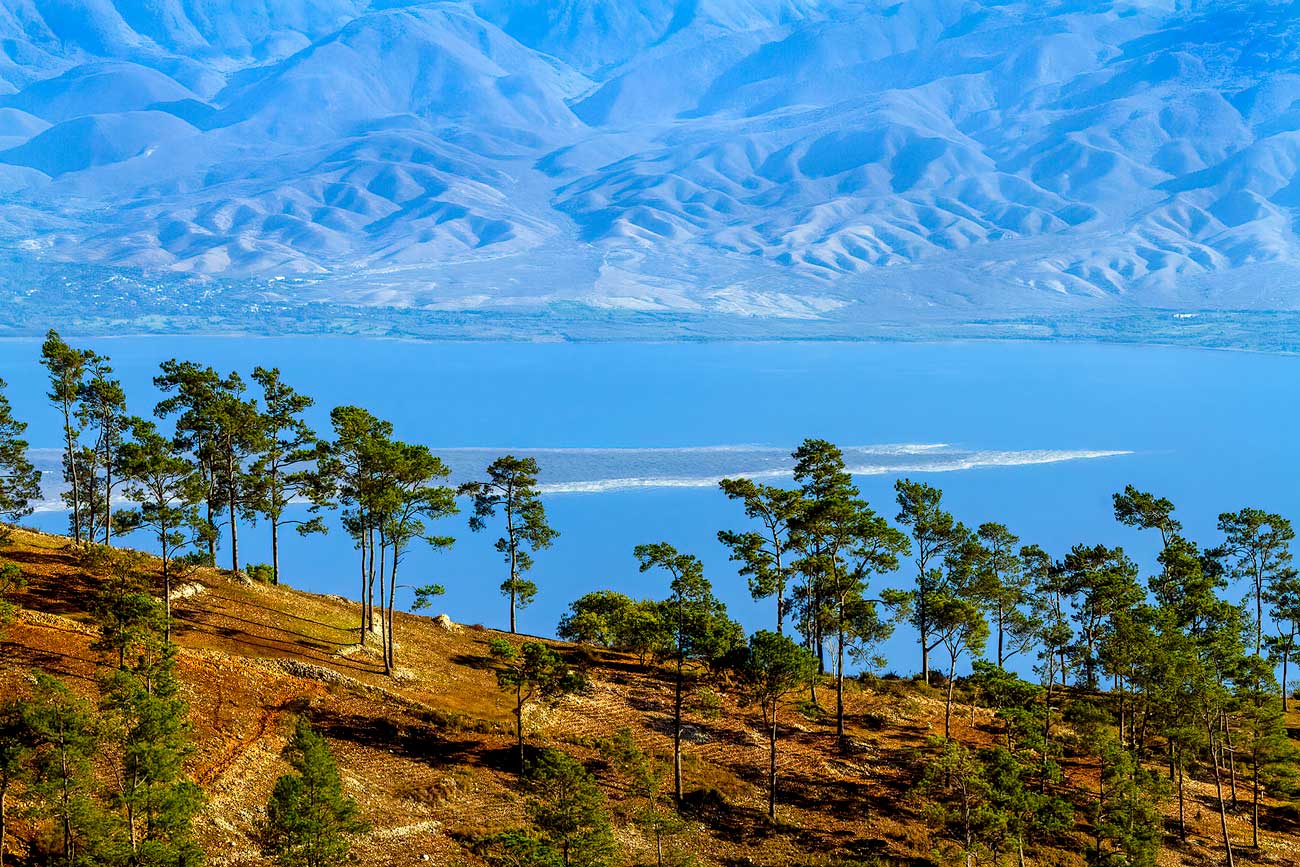 View from Sierra de Neiba of Lake Enriquillo and Haitian mountains
Photo: Javier Gautier
El Hoyo de Pelempito (Pelempito's hole)
Hike through dry scrubland and cloud forests to reach Pelempito's Observatory. At 4,200 feet, you can look down on from the rim of a crater-like geological depression 1140 feet deep and over four miles wide. The depression was caused by the collapse of ancient coral bank and tunnel systems, from when the entire Pedernales Peninsula was under the ocean 56 million years ago. Keen climbers can hire professional guides to descend into El Hoyo.
The natural spa at Balnearios Las Marias
You've reached the end of your trek through the Transboundary Biosphere Reserve, and it's time to reward yourself after an incredible journey.
Just outside Bahoruco's main town, Neyba (meaning "white earth"), you'll come across a beautiful natural oasis called Las Marias, considered a National Monument for its crystal-clear freshwater spa that originates from a subterranean fountain. Spend the afternoon swimming in the cool water as the indigenous once did.
Written by Omar Guzman.

Published March 2022.

Updated October 2023.
Subscribe to our newsletter
Get more travel inspiration, tips and exclusive offers sent straight to your inbox